The timeless passion for wood is expressed in the renewed Retrò collection, a series of classic
yet contemporary bathroom furniture, which create traditional environments with a "Country
Chic" taste. The many shades of wood finishes, the decapé colors, the open pore lacquers give
this collection endless possibilities for combinations. The traditional door with the solid wood
frame and the particular sides with the shaped foot, strongly characterize this model, which
expresses all our passion for classic and timeless furniture.
Dimensions: L.131 P.50
Finish and materials: White open pore
Top: porcelain stoneware with integrated basin, Gloss Amani Grey color
Dimensions: L.131 P.50 cm
Finish and materials: White open pore
Top: Carrara White Marble 3 cm thick, countertop ceramic
washbasin "Nice 50"
Dimensions: L.131 P.50
Finish and materials: White open pore
Top: Carrara White Marble 3 cm thick, countertop ceramic
washbasin "Nice 50"
Dimensions: L.131 P.53
Finish and materials: Green Water Decapè
Top: Technical Iceberg Marble, recessed ceramic washbasin "Retrò"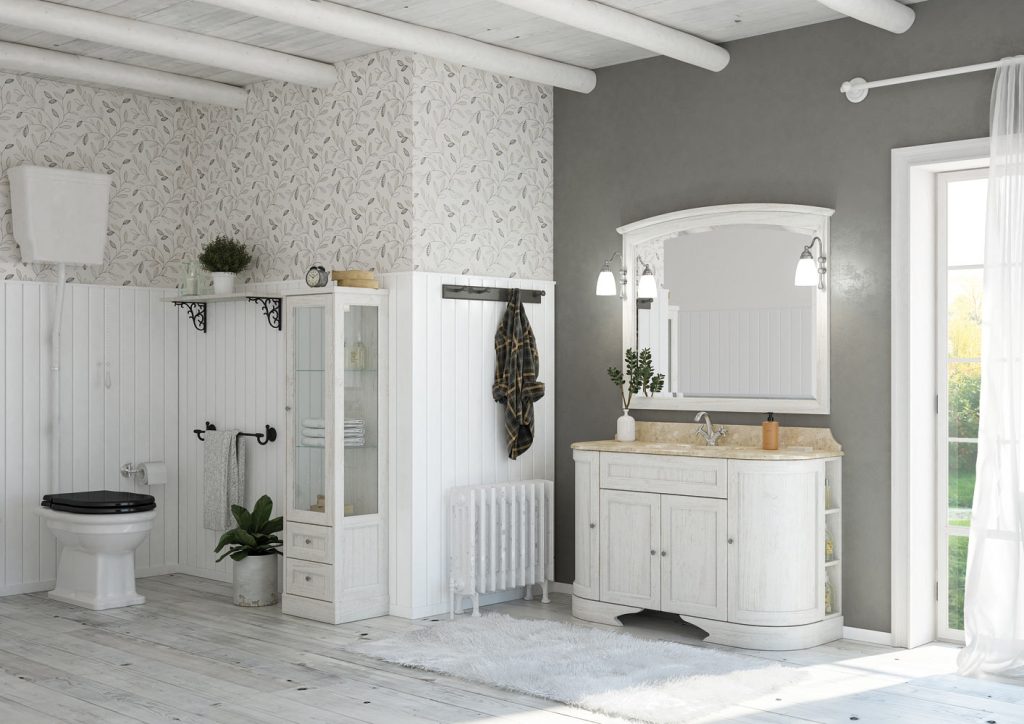 Dimensions: L.131 P.50
Finish and materials: Ivory Decapè
Top: Technical Botticino Marble, recessed ceramic washbasin "Idea"
Dimensions: L.114 P.34
Finish and materials: White Oak Coated
Top: Technical Iceberg Marble, recessed ceramic washbasin "Retrò"
Dimensions: L.198 P.65/50 cm
Finish and materials: White Oak Coated
Top: Carrara White Marble, recessed ceramic washbasin "Enjoy"
Dimensions: L.132 P.34 cm
Finish and materials: Sky Blue Decapè
Top: Carrara White Marble, recessed ceramic washbasin "Retrò"
Dimensions: L.155 P.53 cm
Finish and materials: White Oak Coated
Top: Technical Iceberg Marble,
recessed ceramic washbasin "Luna"
Dimensions: L.153 P.53 cm
Finish and materials: Walnut Oak
Top: Technical Polar White Marble, recessed ceramic washbasin "Retrò"
Dimensions: L.171 P. 34 cm
Finish and materials: Ivory Decapè
Top: Technical Botticino Marble 3 cm, semi-recessed standard ceramic washbasin
Dimensions: L. 54 P. 49,5 cm
Finish and materials: Ivory Decapè
Top: non-flush ceramic console cm 57
Dimensions: L.72 P.50,5 cm
Finish and materials: Walnut Oak
Top: non-flush ceramic console cm 74
Dimensions: L. 81 P.50,5 cm
Finish and materials: Green Water Decapè
Top: non-flush ceramic console cm 86
Dimensions: L.126 P. 50,5 cm
Finish and materials: White Oak Coated
Top: ceramic column console cm 101